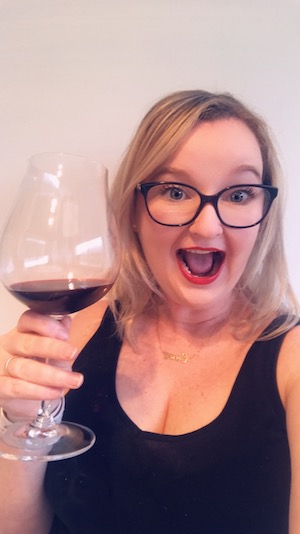 My tipsy turvy story of how I came to be the wine blogger known as the Travelling Corkscrew…
I'm Casey and I LOVE wine, love to blog and love to share my experiences with whoever is keen to listen. I am also a bit of a social media addict with a slight case of itchy feet and suffer from a serious case of food envy.
I ended up on the shores of Australia, Perth to be exact, in 2012 and I fell corkscrew over bottle with it. There is literally so much wine within a fingertip's reach in WA.
In 2018 I sadly said goodbye to Perth when my beloved husband got a job in Gippsland, Victoria. We decided to hop on over to the east coast for a bit of a look around whilst I start up my small business, Grand Cru Digital, specialising in Search Marketing and more specifically SEO.
In 2020 we moved to live amongst the Bellarine Peninsula wineries and we are loving our little beach / vineyard home.
So what's my story? Why wine? Here is a quick taste:
When I was 15 years old I became an after-school cellar hand at Cottle Hill Winery in the Bay of Islands, New Zealand.
While studying my Bachelor of Communication Studies/Public Relations degree in Auckland I worked for the New Zealand wine retailer Glengarry.
I spent 4 years living in Dubai, United Arab Emirates where I worked for the illustrious duty-free fine wine and luxury spirit store – Le Clos.
While in Dubai I completed my Wine & Spirits Education Trust (WSET) levels 2 & 3 Certificate qualifications.
2010 the Travelling Corkscrew was born out of my love for writing, wine and communicating.
In 2011, Mr. Spittoon (now husband) and I spent the year backpacking around Europe with a particular emphasis on visiting wine regions (ahhh the memories!).
2012 I arrived in Perth, Western Australia with an empty wine glass and my taste buds at the ready.
In 2013 I challenged myself to taste 365 different wines.
I love writing about wine, which is why during my time in Perth, I wrote for a lot of fab wine and travel publications as well as doing a radio interview – read all about my guest appearances here.
Completed the Wine101x, World of Wine: From Grape to Glass online course with a final grade of 96% – see my edX certificate here.
2018 I moved to Victoria, Australia and started up Grand Cru Digital
In 2018 I was also awarded the Spirit of the Swan award at the 2018 Swan Valley Wine Show
In 2020 we moved to the Bellarine Peninsula
So that is me in a wine glass.
Like, everyone, I am still learning all about the mysteries of the wine world, however, I am studying extremely hard, after all – a girl has got to do her research.
My main philosophy and advice for everyone is:
If you like it, drink it & enjoy every last drop!
Contact me: